German Premiere
Screenings: Saturday, June 19, 19:00 and Tuesday, June 22, 21:00 (UMAMI)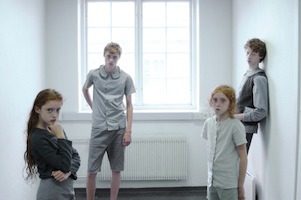 Country of Origin / Land: Norway / Norwegen
Year of Production / Jahr: 2009
Duration / Länge: 12'39"
Category / Kategorie: Fiction, Experimental
Director / Regie: Sara Eliassen
Screenplay / Drehbuch: Sara Eliassen
Cinematographer / Kamera: Cecilie Semec
Editor / Schnitt: Erik Aster, Anton Herbert
Music / Musik: Aslak Dørum
Producer / Produktion: Henrik J. Henriksen
Cast / Darsteller: Marcus Oliver Charles Qualmann, Philip Lawrence Qualmann, Isabella Juliette Qualmann, Amalia Iva Qualmann, Amanda Kvakland a.o.
Synopsis: Still Birds is a dystopic fable that takes place in an enclosed world in which meaning is about to disappear. In a theatrically constructed universe with no specific geography or time, the only remaining people are children who have lost the ability to use language. In the aftermath of a human catastrophe, Still Birds is a fable with a glimmer of utopian hope.
Inhalt: Nach einer Umweltkatastrophe sind nur ein paar Kinder, die ihre Sprache verloren haben, übrig geblieben. Nur die Vögeln spiegeln einen Hauch utopischer Hoffnung.
Festivals & Awards: Norwegian Short Film Festival Norway 2009 (Honorary Mention), 66th Venice International Film Festival Italy 2009, Nordisk Panorama 5 Cities Film Festival Norway 2009 (Special Jury Mention), Stockholm International Film Festival Sweden 2009, Sundance Film Festival USA 2010, Miami International Film Festival USA 2010, Go Short! The Netherlands 2010, Bresda International Film Festival The Netherlands 2010, San Francisco International Film Festival USA 2010, Transylvania International Film Festival Romania 2010, World Wide Short Film Festival Toronto Canada 2010
Weblink: www.saraeliassen.com