Bavarian Premiere
Screenings: Sunday, June 21, 2015, 19:00 and Tuesday, June 23, 2015, 19:00 (SALTY)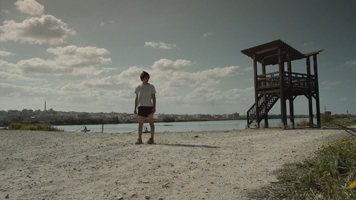 Country of Origin: Israel
Year of Completion / First Public Screening: 2014
Running Time: 19'00"
Category: Fiction
Director: Amitai Ashkenazi
Screenplay: Amitai Ashkenazi, Yona Rozenkier
Cinematographer: Oded Ashkenazi
Music: Yakir Ben Tov
Editor: Yinon Porat
Producer: Ayelet Weissman
Synopsis: 18 years old Elai works with his brother in the fish ponds at the kibbutz. After he is saved from thieves by an Arab kid from the nearby village, he tells a lie that will come back to haunt him.
Festivals & Awards:
Sehsüchte Film Festival. award for best short fiction.
LISFE. Jury's Special Mention.
Clermont Ferrand Film Festival.
Camerimage.
Cinemed.
Jerusalem Film Festival.
Tel Aviv International Students Film Festival.