Screening: Friday, June 19, 23:00 (BEST OF GERMANY I)
,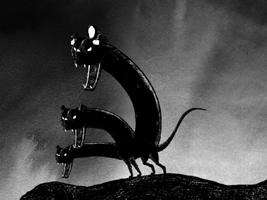 Country of Origin: Germany
Year of Production: 2007
Duration: 9′
Category: Animation
Director: Aike Arndt
Storyboard: Aike Arndt
Animation: Aike Arndt
Music: Florian Bodenschatz, Anja Driemecker
Sound Design: Florian Bodenschatz, Anja Driemecker
Musicians: Klezmerpack, Lulzim Bucaliu
Synopsis: Before we go to hell we have to pay Charon, the ferryman and – disposed of our earthly burdens – cross the river Styx. Cerberus, the multi-headed hellhound receives everyone at the entrance of the underworld. The movie tells the old story of equality in death and oflove shown to a little dog, who in no case wants to be left behind.
Festivals & Awards: Nominierung Deutscher Kurzfilmpreis in der Kategorie Animations-/Experimentalfilme mit einer Laufzeit bis 30 Minuten
Weblink: www.kurzfilmpreisunterwegs.org/index.php?c=filme&film=7