German Premiere
Screenings: Saturday, March 25, 2006, 12:30 and Sunday, March 26, 2006, 17:30 (UMAMI)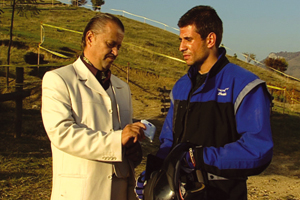 Country of Origin: Bosnia and Herzegovina
Year of Production:
Duration: 13'30"
Category: Fiction
Director: Alen Drljevic
Screenplay: Alen Drljevic
Cinematographer: Milenko Uherka
Editor: Almir Kenovic, Aida Huseinovic
Music: Mostar Sevdah Reunion, Vuneny, Saša Lošic
Producer: Ademir Kenovic, Pjer Žalica, Srdan Vuletic
Cast:
Synopsis: Bosnia and Herzegovina today, eight years after the war. Not far from Sarajevo, which, on the surface, got back to its normal everyday life only, an illegal bet shop has been organized – people bet on riding a motorbike through the minefield. Those who got rich overnight are betting on life or death of the drivers – the Russian roulette on Bosnian way. In a country where majority of people live below the poverty line, it is really easy to find "a death driver". Sakal, the organizer of this brutal spectacle makes money on the misfortune of these desperate men. Muris, one of those desperate men, comes out of his deadly ride alive. His hungry family celebrates his "first paycheck", not knowing the truth of how he earned it.
Festivals & Awards: PRIX UIP SARAJEVO / Nomination for the European Film Academy Award (EFA) / Sarajevo Film Festival 2005 (Special Mention)
Weblink: www.refresh.ba